Do I need to shred my x-rays in order to dispose of it properly?
This is a very common question, we hear it a lot, therefore we also answer this question very briefly at our common questions about x-ray film disposal page but we will try to answer it more in details in this article.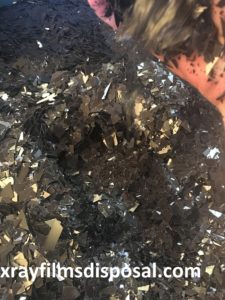 Please note that HIPAA requires facilities with outdated x-ray film to destroy all of the information in order to protect the patients from being exposed, however HIPAA does not really state how to do it, they actually leave the responsibility of the facility by stating that the facility has to decide which way they would like to dispose of the medical X-ray film, as long as the facility does "the right thing".
What is doing the right thing when coming to x-ray film recycling?
As discussed previously, x-ray films contain sensitive patient information both on the x-ray charts and the paper jackets (envelopes) and are some cases there are some medical charts in addition to the x-ray sheets inside the paper jackets, therefore everything has to be recycled properly.
So shred it?
It is common sense that by shredding x-ray film sheets including the paper jackets and any other medical document will actually do the job of destroying the information in these medical records, but there are 2 problems.
You need a very serious shredder in order to shred large quantities of x-rays in jackets.
If you do that you will end up with a mixture of paper and PET film, what about the silver?
The silver recovery from the x-ray films today is not as it used to be due to the restrictions made by the EPA, in the past we could have put x-ray sheets with the jackets in an oven and burn everything in order to recover the silver, today the common silver recovery method is called "wash" it means that the silver is washed off the PET problem and leaves the film as clear as a glass, this is a very friend earthly way to recover the silver from the x-rays and re-use to the plastic film, its much cheaper and cost effective, however it has troubles washing films and paper and as default it will only work with clean x-ray films, shredded or not.
So back to the question if a company need to shred the x-ray film for proper disposal, the answer is no, the solution is finding a liable, licensed and registered 
x-ray recycling
company which will pick-up your x-rays and dispose of it properly that way you will be able to actually make money from the silver recovery of the x-rays.